myodoo is an application which aims to make the transition from MYOB AccountRight to Odoo (formerly known as OpenERP) little easier for Australian businesses. It converts a MYOB Chart of Accounts into a format which Odoo can use.
As with most operations in Odoo there are a multitude of ways to accomplish the same thing, however this guide shows what we consider to be the easiest way to use a MYOB chart of accounts in Odoo.
Requirements
In order to use myodoo you will need the Java Runtime Environment version 1.7.
The myodoo Zip File
Inside the zip file you will find three folders:
myodoo – containing the application
l10n_au_toponyms – A list of Australian States and Territories
l10n_au – The Australian accounts for Odoo
You don't need to install myodoo – just unzip it somewhere convenient (like the desktop) and double click the icon.
Use
Preparing MYOB data
Open your MYOB data file and click on the File menu then Export Data, Accounts then Account Information. You should receive a screen like: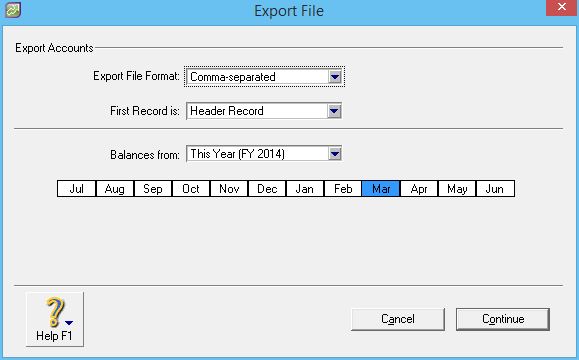 Click Continue, then select Account Number, Account Name, Header, Account Type, Tax Code and Classification for Statement of Cash Flows for exporting: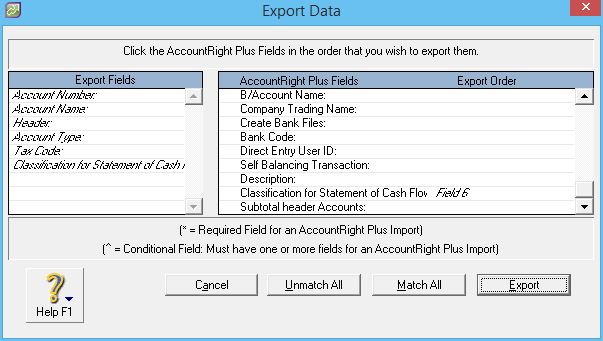 Click Export then save the file to a convenient location.
Converting the MYOB Accounts List

Open myodoo
Click File then Open MYOB Accounts
Right Click on the Cash on Hand or your Bank/Cash header account and select Root Bank Account
Right Click on the Trade Debtors or your Accounts Receivable account and select Receivables Account
Right Click on the Trade Creditors or your Accounts Payable account and select Payables Account
Right Click on the Income header account and select Income Category
Right Click on the Expenses header account and select Expense Category
Click File then Validate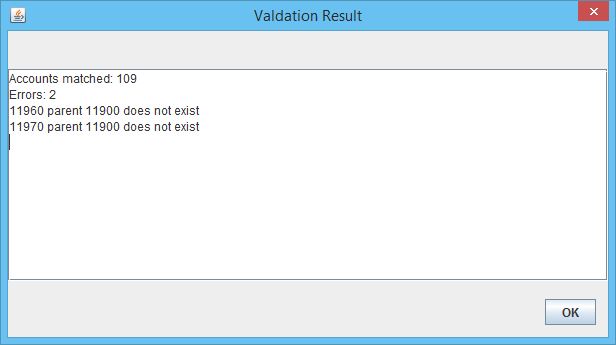 The validation process will bring up any issues with parent and child accounts. To resolve these, in the myodoo main screen double click in the relevant Parent field and type the correct parent account number. Once all entries are corrected run the validation again.
After your selections have been validated click File then Save Odoo Accounts as XML and save the file in the l10n_au folder as account_chart.xml. Then click File and Save Odoo Chart of Accounts as XML and save the file in the l10n_au folder as account_chart_template.xml.
Configuring Odoo
Copy the l10n_au_toponyms and l10n_au folders to your Odoo addons folder.
Logon to Odoo as an Administrator with Technical Features enabled and select Update Modules List under Modules. In the popup that appears click Update.
Once the system has updated the module list, click Installed Modules under Modules on the left hand side. You will see a screen similar to: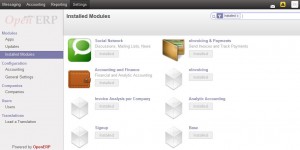 Click the X next to Installed in the search bar and type l10n_au you will then see the Australian modules: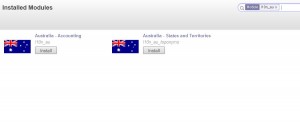 Install the Australia – States and Territories module then when it has completed, the Australia – Accounting module.
After the accounting module has installed you will be asked to configure accounting data:

Select Australia – Accounting as your accounting package and click continue. Once this is complete, you should have your MYOB Chart of Accounts in Odoo!
Support
One Click Software provides support for customers using myodoo but does not provide support for Odoo itself. For Odoo support, please contact our parent Carter Tech.